I hope the Dog Days of summer find you all well, rested and creating wonderful memories. Here in the Mesilla Valley on the Rio Grande River the Green Chile harvest season is well underway. All around the valley harvest and wine festivals abound. The smell of roasting chiles is strong and people are lined up with their burlap bags to get their supply into the freezer—a ritual in New Mexico. I played for the fifth year at the Franciscan Festival of Fine Arts in Mesilla Park, NM. This is an arts festival which resurrected (no pun intended) six-years ago after a two decade hiatus. The setting is a retreat center that which lends itself to my music. This summer also saw a return to the World of Faeries Festival in South Elgin, IL as well as performances in the Santa Fe area with poets
Wayne Crawford
and Wendy-Brown Baez and at the Sum Arts Festival, a co-host BlogCast on BlogTV.com with Rod Krug. You can see some of the recorded broadcast at http://www.blogtv.com/People/didgerod , and so many more exciting opportunities.
Right now I'm in route to perform at the Indian Summer Music Festival in Milwaukee, WI where I'm nominated for "Best Flutist" for my CD
A Place Called Peace
and am looking forward to hearing some great music. I take the Miller Stage at 12:30PM, Sat., Sept. 12th. September is full of performances with other musicians, something that is always a treat for me. Please check my website calendar for details on the upcoming shows at
randygranger.net/calendar.html
. Here is a list.
Sept. 17th, 8PM-Irie Bean Coffee Bar Austin, TX.
2310 South Lamar, Sui
te 102, Austin, TX 78704 Randy in a solo performance in the courtyard. Also that night buy a $12 bottle of wine and get complimentary massages from 7-9PM. http://
www.iriebean.com
/
Sept. 19th,
Equinox Concert in the Cave Without a Name
, 7-9PM 325 Kreutzberg Rd, Boerne, TX. Tickets and more info at:
http://www.sacredinspiration.com/event.html
with Sound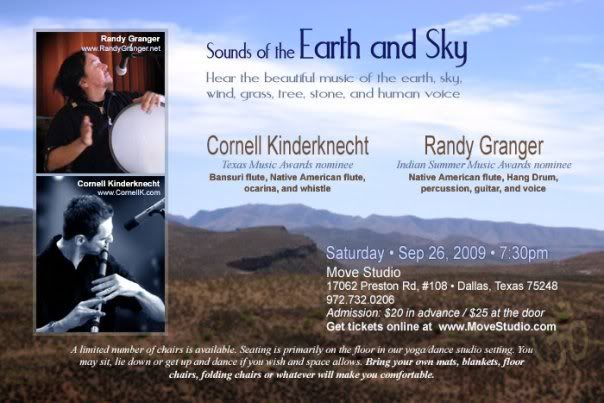 Healer and Tibetan Singing Bowl player Jodi Roberts as well as Native American flutist Virgie Ravenhawk.
Sept. 26th, Move Studios , 7:30PM
Randy Granger
with World Flutist
Cornell Kinderknect
and percussionist
Martin McCall
. 17062 Preston Rd, suite 108, Dallas TX, 75248 There is limited seating. For ticket info go to http://
www.movestudio.com/
there click on Workshops Series and Events on the left hand side. Click concerts for mine and Cornell's concert. Click the purchase link. You will be asked to register and pay online if you like or you can call 972-732-0206 during business hours to do the same.
Sept. 27th,
Randy Granger and Cornell Kinderknect
perform Special Music 10AM at
Unity Church Arlington
, 3525 S. Bowen Rd., Arlington, TX
www.unityarlingtontx.org
.
The Concert in the Cave will be something really special both acoustically and musically. Jodi Roberts is a wonderful sound healer and dear friend. Cornell and I have played together a few times at festivals and had an instant musical connection and friendship as well. What a joy these shows will be. I hope you can make some of them or maybe forward the info to friends and flute people you know in these areas. One of the truly awesome things about making music is how in the moment it is at the same time it is ephemeral. Those sounds that are vibration and rhythm will never happen again. Live music is like transforming sound molecules into emotions. It is something I try to never take for granted and feels so fortunate to be able to do what I do. It is interesting that the instruments I use, the voice, the hang drum, the guitar and native American flutes are all exposed and do best when played in a direct, emotive and from the heart way. Enjoy these Dog Days of summer. Fall is seeping in slowly but surely.
Randy